More
I am actually working on this text. At first I used Google translate. But I know how weird it might look :)
So please be patient with me, I will get this done some day.
Each card is on its way positively. For me there are no negative cards. All cards are for gudiance. The card wants to lead you on the right path. To predict with a single card is a skill. To predict with multiple cards can produce much more information. For example, about everyday events. And about major life events. The cards are both feminine and masculine in its energy, suggesting that there is a good balance between the forces that we usually divide into male and female.

If you have further questions about Tarot or a reading made by me, please feel free to contact me. Questioners are supposed to understand their divination. No matter how little or how much information appears.

I have started to use  Google translation programs to language difficulties not to steal too much focus away from me. I hope it will be understood by you and others.

Remember that nothing happens by itself. You must help the energies along by itself be involved and take action and influence.

It is important to remember that Tarot works best as a guide, future is in our own hands and we are never powerless. We are always with and act and influence. Therefore, we can only guess the future based on the energies that are around us right now. The present is all we have, everything else is a fantasy of different scenarios, desired or oönskade.De media images I sometimes get up is of a different nature and should not be confused with the usual tarot interpretation.

Neither I nor the Tarot can determine your life or make someone's decision, in the end you have to yourself to take the difficult decisions. Remember that I am a channel, in the form of an ordinary human being with all the mistakes it could mean.
 
Remember that the future is changeable and responsive to our thoughts and actions. To predict the future or special dates can also be difficult. Just as with the weather so the wind can turn around and things will not be quite as we had thought. You are never powerless. Tarot want to develop your own strength and your inner answers to help you yourself take control of your life and not having to depend on what others do, say or think.

Tarot and conveys the spirit world is not always the answers we would ideally wish for us. Without taking up what they consider to be the most important information and what we now need to hear. And I hope that, even if you feel that the responses have been a bit unclear or fuzzy, you can find help and comfort in what you have heard today.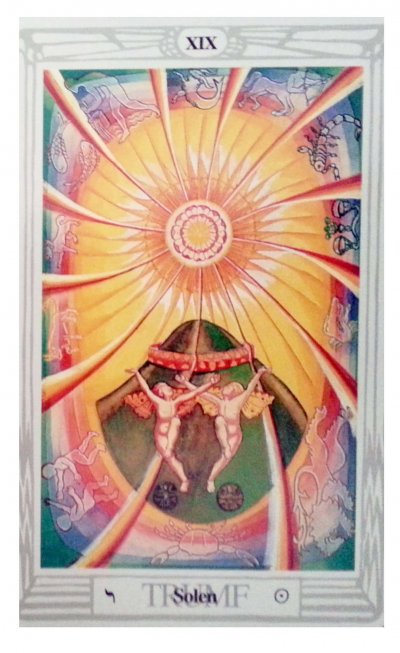 The Sun